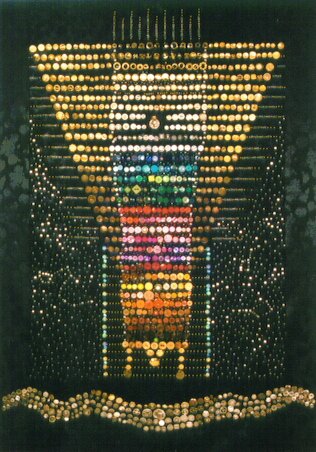 "Never Forget You Are One of a Kind"
This is the only one of Rachel's quilts that hangs in her home permanently. She designed it in response to the death of Princess Diana. She writes, "In the 1860s young women arranged one-of-a-kind buttons into "charm strings." Legend had it that when the thousandth button was strung, Prince Charming would come to claim his lady love.
Diana married her prince. In her own words, 'One minute I was a nobody. The next minute I was Princess of Wales;' and although everyone could see she was one-of-a-kind, to her prince, she was not worth a button.
Sadly, Diana believed that she 'had a brain the size of a pea' - so different from the princess and the pea fairy tale depicted here.
Even more sadly, in her feelings about herself, Diana is one of millions. Eleanor Roosevelt said it best, 'No one can make you feel inferior without your own consent." Diana treated everybody like they were one of a kind. This is her legacy!
"Never Enough Buttons" by Alice Korach
Bead&Button magazine, Issue #29, February 1999, p. 46-49